Mohammad Hazrat Ali Khan,Counsellor & Head of Chancery
Embassy of the People's Republic of Bangladesh, France:
The Embassy of Bangladesh in Paris observed the Shaheed Dibosh & International Mother Language Day 2016 with due solemnity on 21 February 2016 on the Embassy premise and with different Bangladeshi socio-cultural organizations in France. The national flag was hoisted at half-mast in the morning of 21st February at the Chancery by Hon'ble State Minister for Power, Energy and Mineral Resources of Bangladesh Mr. Nasrul Hamid, MP, who is now on an official visit to Paris. A make-shift Shaheed Minar was founded on the Embassy premise and expatriate Bangladeshi people from all walks of life including Hon'ble State Minister and Embassy officials placed floral wreath at Shaheed Minar at the Embassy to pay homage to the language martyrs.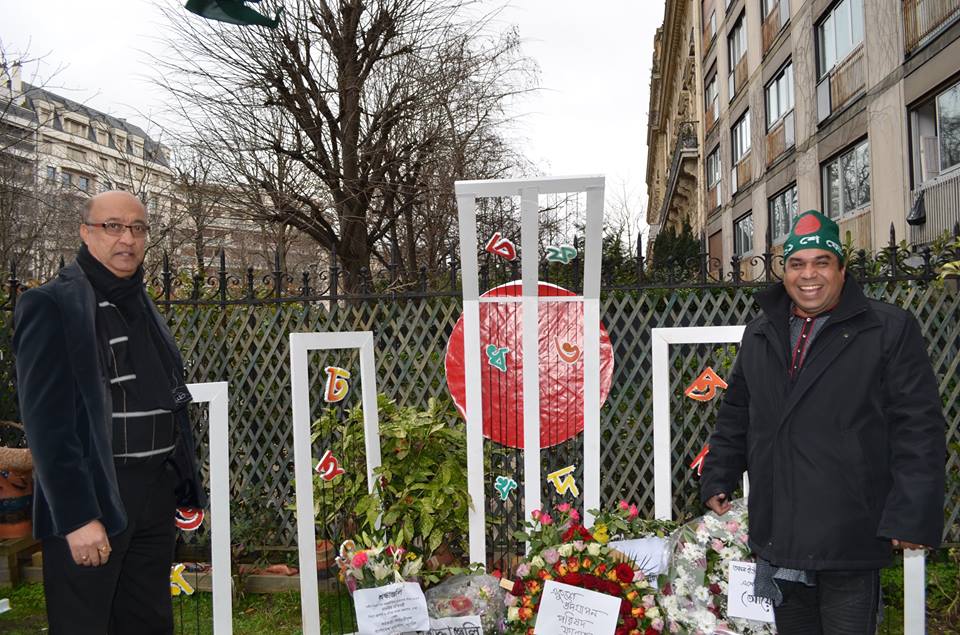 These were followed by recitation from the Holy Quran, observance of one minute silence showing respect to all the martyrs of the Language Movement in 1952. The Messages on the occasion given by the Hon'ble President, Hon'ble Prime Minister, Hon'ble Foreign Minister and Hon'ble State Minister for Foreign Affairs were read out by Counsellor & CDA, ad.i, Mr. Mohammad Hazrat Ali Khan; Mr. Md. Firoz Uddin, Commercial Counsellor; Ms. Anisa R. Amin, First Secretary (Culture) and Ms. Farhana Ahmed Chowdhury, First Secretary (Political) of this Embassy respectively.
   A number of Bangladeshi socio-cultural organizations including Udichi Shilpi Gosthi, Paris-Bangla Press Club, France-Bangla School, Ekush Udjapon Parishad Paris (it was a grand gathering of Bangladeshi organizations near Eiffel Tower) and political organizations based in Paris organized different programs including book fair, seminar, art competition for children, cultural events and placing of floral wreath at temporary Shaheed Minar to pay homage to the language martyrs. The Embassy officials attended all those events and placed flower wreath to pay respect to the language martyrs.
 A brief discussion meeting was also held on the Shaheed Dibosh & International Mother Language Day. Among others Mime Artist Mr. Partho Protim Mojumder, Mr. Benjeer Ahmed Selim, Mr. Md Abul Kashem, Mr. Jamirul Islam Miah, Mr. Abu Taher and Mr. Iraj Waliullah son of renowned Bangladeshi writer Syed Waliullah participated in the discussion meeting. The discussants highlighted the background and significance of the International Mother Language Day with a historic perspective and its relevance in today's world. Taking part in the discussion, Hon. State Minister Mr. Nasrul Hamid said that Bangladesh has already advanced a more on the way of light and he remembered the great role of expatriate Bangladeshis in promoting economy of Bangladesh by sending remittance to the country.
 A special prayer session were offered seeking Almighty Allah's blessings for the eternal peace of the soul of the Father of the Nation Bangabandhu Sheikh Mujibur Rahman and the language martyrs and other martyrs during the War of Liberation as well as for the peace and prosperity of the country under the leadership of Hon'ble Prime Minister Sheikh Hasina. After completion of the event at the Embassy, the participants were entertained by traditional Bangladeshi food.
 In celebration of International Mother Language Day 2016, the UNESCO has organized a seminar titled "Quality education, language(s) of instruction and learning outcomes" at its HQ in Paris on 22 February 2016; along with other Panelists, Bangladesh Permanent delegate to UNESCO will also participate in the Seminar as one of the Panelists. The Permanent Delegation of Bangladesh, in collaboration with UNESCO, has organized a Cultural Evening entitled "Celebrating Linguistic and Cultural Diversity" at UNESCO Headquarters on 03 March 2016.// Press Release.
Category: English News, Scroll_Head_Line